Rinjani Official Information Local Community
Rinjani information centre
Rinjani  information centre is an official trekking  mount Rinjani, and we are licenced and experienced Rinjani tour company with friendly team as our local porter and our local guide engglish speacking with good experienced. We are here since 1998 and our homebase at Sembalun village and one of our representative is at Senaru village we are the real tour organizer and not the midlleman we will take care of our service all including your trekking incurance and your guide porter foods and drink equipments on the mountain and all of your documents on the trek with us 
Thank you very much for taking your time for  visiting our local comunity website and we believe you will give a good response because we are here to help local communities to promote our local products such as authentic local woven fabrics such as sarongs, wallets, hats and others in every purchase of our trekking packages you will get one of the gifts of woven cloth or other prizes as a sign of your participation to help the local community in Senaru and Sembalun
Most popular trekking activities
Mount Rinjani trekking can be done from 6 official trekking gates such as Sembalun, Senaru, Torean, Timbanuh, Tetebatu and Aik Berik, but to reach the top of Rinjani 3726 Masl. and Lake of Segara Anak only start from 3 main routes: Sembalun, Senaru and Torean. Our trekking package prioritizes climbing to the most popular and beutiful view to the top of Rinjani, Segara Anak Lake, Plawangan Senaru and a new trip to the second summit the Mount Sangkareang 3,300 m.
Majestic Senaru Second summit 3300m
Rinjani Trekking Package to Crater rim 2 days 1 night package start from Senaru village to the crater rim, and return to Senaru village at the next day.
Incredible Sembalun Summit Trek 3726m
Mount Rinjani Trek to Summit 2 days 1 night package start from Sembalun to the crater rim Sembalun, summit and next day back to Sembalun.
The Most Challaging Trekking Start Sembalun
Hiking Mount Rinjani 3 days 2 nights Summit and Segara Anak lake package starting from Sembalun to the crater rim Sembalun, summit, Lake and down to Senaru village.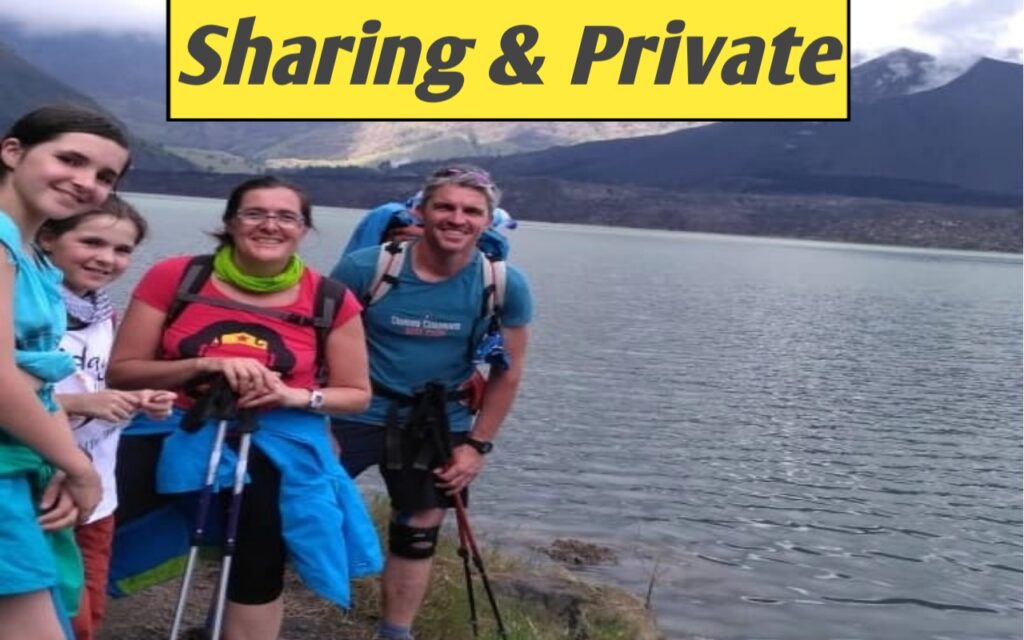 Explore All Trekking Destination Start Sembalun
Trekking Mount Rinjani 4 days 3 nights Summit and Lake Segara Anak starting from Sembalun to the crater rim Sembalun, summit, Lake and descend to Senaru village.
Guest Join Private Trekking
Guest Join Sharing tour trekking
By book a treking package with us and get one of our free traditional produck below
Follow us on social media
Frequently asked question
Have a plan trekking or hiking mount rinjani
Please don't hesitate to contact us!
BEST CLIENTS TESTIMONIALS
Absolutely worth it! We booked a 4d3n trek to be able to have a more relaxed (as far as possible) trek. It was amazing. The variety of the campsites. The views. And the happy feeling when you can give your feet some rest while other must go on. Accidentally we had a private tour but it was great. Ady was really helpful and experienced. Was always ready, and wanted the best for us. The private tour gave us the possibility to start early for example to escape the rain. It was a though trip anyway, but the good meals, good views and amazing help of the porters helped us trough. The pick up and drop off was nice
Best Trekking Guide Trekking rinjani summit was definitely one of the most memorable expeditions during my time inlombok. The tour operator ( Rinjani Information Centre ) is very well organised and our guide Eful is just a great guy! With his warm, charming, informative and for sure always humorous way he shaped this experience significantly.Also just had the best luck with my group, I'll remember all of you guys!
Amazing rinjani trekking experience Me and my friends've had the best experience trekking mount rinjani with this company! We had an awesome knowledgeable and very friendly guide and porter, the best we've ever had on a trek! The trekking experience blew our minds at every stage and far exceeded our expectations. The food was also absolutely amazing and considering we had special dietary requirements the variety and creativity of the cooking was incredible! We felt really looked after the whole way by our guide with lots of thoughtful details, like a hot water bottle provided for camping (makes a big difference on a cold night in the rinjani mountains!) bring extra cash to tip the guide and porter!
Unforgettable experience Really amazing and unforgettable experience in hiking mount rinjani summit 2days. The organisation was excellent and the guide very professional. The food was well cooked (we never had any issues with it). It was small group 6 person of us, perfect to really enjoying the experience. We highly recommend this tour operator to hike mount rinjani.
Rinjani Information Centre Is Reliable Trek Company Rinjani Information Centre is a reliable tour operator in lombok. The owner gave me good advice when planning the trek. They delivered on everything they said they would do. The trekking equipment and foods bringed by our porter were good. The guide and porters worked extremely hard. They were also kind and generous — really good people to share the trek with.The trek itself is was incredible. We did the 3days 2nights. We lucked out on the good weather. Thank you guys for your help.
Trustworthy Trekking Agen Our trekking guide, Ris, is very friendly and responsible during our trekking tour trip. He was flexible with our plans and recommeneded good trekking package for our trekking plan. One of the best trek company I've come across. Very professional. Highly recommended to everyone!
Excellent service organized by Rinjani Information Centre Definitely one of the best tour guide provider i ever had in my rinjani trekking experience . We booked 3days 2nigth with rinjani information centre as our local trek organizer. Rinjani information team did an excellent job in the entire tour by driving us around lombok island,explore mount rinjani and told us a lot of the interesting history about lombok and mount rinjani. Owner is truly humble person and also very friendly team. We strongly recommend this company.
3726 m with perfect experience Chiky driver from rinjani information centre picked us up from thekuta lombok and brought us to the senaru accomodatio on the first day and visit senaru waterfall.Guide we requested couldn't hike with us but other guide, Ris and his 2 porters took good care of us. Our guide and porter was climbed rinjani more than 300 times ! They were extremely attentive and experienced. Ris Our Guide recommended easier routes,helped us get through the difficult parts and even carried water and snack up for us on the summit climb! Every little bit counts! We loved the urap urap, Nasi goreng and fruits salad! When the going gets tough, Our guide Ris motivated us "step by step, we'll get there and also help us by push us on the last part" and we did! Thank you for the wonderful experience. Strong recommended
Rinjani Information Centre Best !!! Rinjani Information Centre is a local trekking company very experienced in manage our tour to hike volcano. The team/crew were super friendly, nice and very competent in arrange rinjani trip.Rinjani Information Team picked us at the airport, and directly transfer to their accommodation in senaru vilage and we did the 2 days 1 night tour to senaru crater rim. The provided food by the team was good and they were ready to satisfy all our requests. Rinjani trekking was an amazing experience!!
Super !! Super ascension malgré la pluie, Adi et son équipe étaient tops, très gentils et attentionnés envers nous pour qui la montée n'était pas facile !! Je recommande!